It's over. November is over and that means NaNoWriMo is over. Does that mean the writing stops? No. Of course not peeps! I did meet the 50,000 word goal, but I didn't finish the story. I'm not even that much of an expert to say how many words I need to write to finish it. I don't feel like I won. I feel like I'm halfway done eating a Vermonster. Which in case you didn't know, is a lot of ice cream, toppings, and oh man look at that loveliness.
But, getting mostly through writing a novel leaves you with the same feeling as I would imagine eating most of this mammoth creamy treat would: with a tummy ache. But, I'm full. I'm so full. I know the next word will taste as delicious as a spoon full of banana, cookies and cream ice cream with whipped cream, but I know I could lose said cookies if I did just now. I felt the same way after the AtoZChallenge. Remember that? After a month of whizzing my way through the alphabet I felt like I was walking around in Oz. Now it's ice cream – someone. please tell me what's wrong with me. Oh yeah, I was writing at least 2,000 words a day (always more when you think of texting, emails, Words with Friends, you get the picture!)
I've had a lot happen in the month of November (good bad and who cares), and lots more to look forward to in December. Like Advent, my birthday, Christmas, New Year's, you know, the season of holidays. I also don't know what direction this blog will take. I feel like things are different, don't you? I feel like we're bustin' out of this here prayer closet. Think about it, we've been filling it for a hot minute with all kinds of feelings, prayers and musings. I would like my space to reflect the change we're going through together, and I think you would like that too. All in the name of transparency, folks. I was talking about it with Tiff-tastic this morning and I hate being quiet and cagey about things. Not my estilo. So that's what I'm thinking about, and maybe that's why I've also been so quiet, aside from the NaNoHapPenIngs. I hope you'll stick around, but if you don't that's ok. I would never put baby in the corner, and I know you feel the same way about me. Change is always good, it's consistent and we like that about it, at least. SO, onward.
What have I learned from NaNoWriMo, you ask? Or any writing blitz blender? Neatly summed up? I pay for it later.
When the blitzing blender is done, I am exhausted.
There are no more words. I have reaped all that I've sewn over the past 30 days, and now I have to till the soil, and add more seed. There are more words, of course there are, but they're just like alphabet soup in my head. I need some time to get the letters to play nice and make words.
When the blitzing blender is done, I am a lethargic mess.
All that writing means, all that NOT walking, or exercising, or taking regular bathroom breaks as an excuse to shake my legs awake. Thank goodness for Lycra and all things stretch. I don't know what to do with myself because it's a snowy mess outside, and it's cold. I could walk up and down my stairs, but I won't. I'll just wait for my husband to get me an elliptical in January. That's just how I roll.
When the blitzing blender is done, I'm still sort of hesitant about sharing it with people IRL.
At mass I've been asked when I am cantoring next, or where I've been this past month. I change the subject, bless myself with Holy Water for the third time in a row, chase after children that aren't mine, all as a rouse. I won't say, "Oh, I was writing a novel and I'll be back in January". Why? Because I get the "When can I read it?!" or, chuckles and "Really?! No. Really?!!!". Because that's awesome. In their defense, who answers with "I'm writing a novel!"? Stephen King does, and I'm not Stephen King. I probably should come with a warning:
"Ask at your own risk, I may say something like 'I can't, I'm writing' or 'I spent an entire month writing a fantasy novel that included a dead monk, watchers of war, faith, love and silence, among other things, and I don't know how it will end…' and you will inevitably respond this way. You don't want that, do you?"
When the blitzing blender is done, even if it isn't finished, yet and won't be for a while…I'm still a novelist.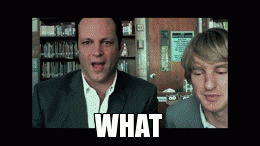 Wait a minute. I thought I was stuck in a blender. Now I'm writing novels? What?!" It's not so much getting out of the blender, it's what happens next. That's the question. (Love The Internship)
So, let's see what happens next. I gotta climb the heck outta this blender.